Petrol Vs Diesel car
Its a very common question, Petrol Vs Diesel car, which one you should buy? So, don't go anywhere. We will provide you parameters like mileage, price, engine etc. to compare the difference between petrol and diesel cars.
Which car is better, petrol or diesel – this is an old problem that worries car buyers every time they intend to buy one. To avoid this scourge, a person should be familiar with the features that a petrol car offers and what its diesel counterpart offers, as well as the significant differences between them. At the end of the day, it is up to the individual to determine which car best suits his or her needs – whether petrol or diesel. The potential buyer should also be aware of their needs, otherwise no one can fully satisfy them.
There is nothing good or bad. The human mind sees things as good or bad depending on their judgment and needs. For some people maybe a certain car is the best and for others, the same model may be worse. But this does not mean that it is a good thing or a bad thing. There are a few things we distinguish between things. Depending on your needs, we will help you choose the best car, be it petrol or diesel.
Different parameters to compare petrol and diesel cars:
In the discussion of this Petrol Vs Diesel car, we have done some research fir you. However, by keeping an important difference in your appearance you can choose the car of your dream to be petrol or diesel. The basics that will help you distinguish between a petrol and a diesel car include: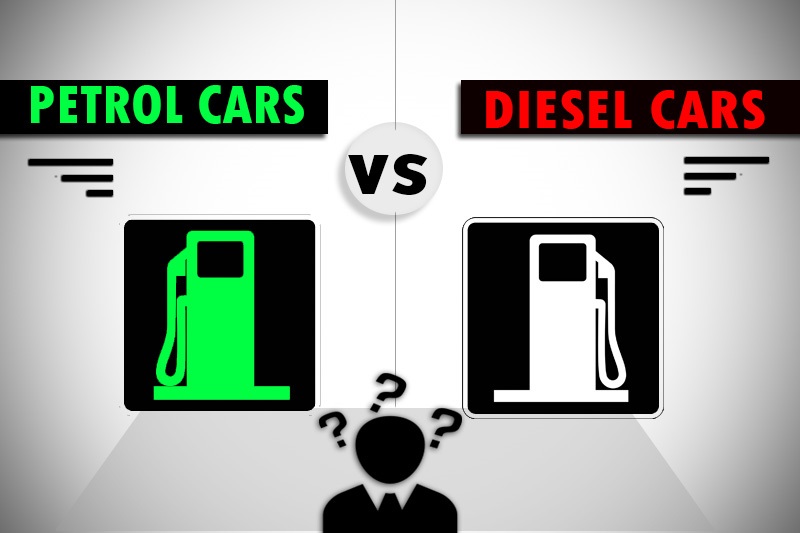 • Mileage
• Maintenance Cost
• Price
• Engine
• Refinement
• Mileage
The basic question a person asks when buying a car is: What is the distance of the car? In comparison, a diesel car has a much higher mileage compared to a car of the same type. Diesel fuel is cheaper than petrol. Diesel cars therefore offer higher mileage with less fuel.
• Maintenance Costs
The care of each vehicle is a basic long-term need. Diesel cars have higher performance compared to petrol cars. Diesel cars are good for long distances and petrol cars are good for short distances. As a fuel, petrol produces less damage to the environment than diesel.
• Price
The basic premise when buying a car lies in the fact of how much you can spend on this glamorous requirement? Likewise, the simple answer is that petrol cars are more affordable than diesel depending on machinery and fuel which is cheaper for petrol cars.
• Engine
In comparison, diesel engines live longer than petrol engines, due to the age of the fuel. But the fact that petrol engines produce better power and lower torque cannot be ignored. Petrol engines have a better grip than diesel engines. The first quick download tells the story of a petrol car but a sudden power outage leads to a diesel car.
The petrol engine operates on an otto cycle and has a spark-ignition system and the diesel engine operates on a diesel cycle and has a pressure system. Both have a four-stroke engine cycle, pressure, combustion, and exhaust. Exhaust gases are pumped out of the fire chamber with an exhaust valve.
• Refinement
NVH (Noise, Vibration, and Harshness) levels of a petrol car are low. But nowadays in high-end automotive diesel engines are being refined to make an audible sound that makes a diesel-powered car selected as a high-end model when repaired.
Should I Buy a Petrol or Diesel Car in 2022?
Diesel cars are the best in the industry due to their low fuel costs and fuel savings. Petrol vehicles are more powerful due to higher RPM and faster acceleration and diesel cars have better tensile strength due to higher torque. And petrol cars are more reliable than diesel because petrol engines have higher combustion temperatures, which means they can withstand higher temperatures better. Repairing diesel cars is also weird but diesel engine lasts longer because it is lighter and more flexible which is why it lubricates engine parts and protects it from wear and tear.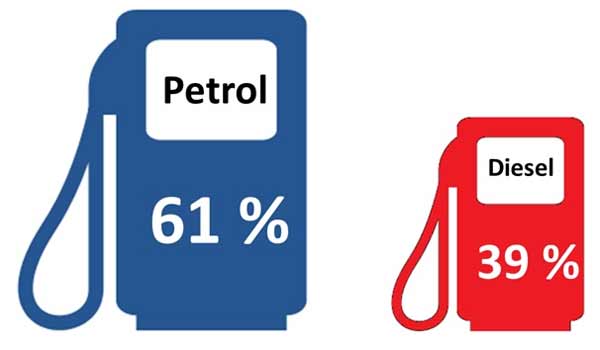 So, do you have a choice between a Petrol Vs diesel car? Hard question. But a good understanding of your needs and the features of the fuel and the diesel car will make your job easier. Considering only the efficiency of fuel in buying a car will not be a good choice. Make the right choice by calculating your needs before investing. A car is an important asset so do some research and make the right decision. Make the right choice and rush to the nearest showroom to buy the dreamers of your life.
Conclusion: Petrol Vs Diesel car
Therefore, from the above "Petrol Vs Diesel car" discussion you can conclude that both type of cars have their own speciality in different ways. You just have to be smart enough to go according to your requirements.
Its time to wrap up this article. Hope you all like this information. If it was even a little bit helpful for you, then do share this with your mates. If you are interested in these kind of engineering stuffs then also do subscribe our blog for each and every fantastic posts
FAQ's
Which Engine Has more pick up petrol or diesel?
In diesel engines, the fuel is injected directly into the combustion chamber, whereas in petrol engines, the fuel is mixed with air before being injected into the chamber. As a result, diesel engines often produce more torque than petrol engines. However, petrol engines work much better than diesel engines and produce less air.
Which Car Is Best For Long Drive Petrol Or Diesel?
There are pros and cons to petrol and diesel cars when it comes to long-distance commuting. Here is the division:
Petrol cars are cheaper to use diesel cars, but diesel cars produce more torque that can be useful for pulling or transporting heavy objects.
Diesel cars are better if they run for a long time as they have a higher fuel content than petrol cars – which means you will need to refill a bit.
What are the Best Petrol Cars of 2022 in India?
Mahindra Thar
Mahindra XUV 700
Tata Punch
Toyota Fortuner
Land Rover Range Rover
What are the Best Diesel Cars of 2022 in India?
Mahindra Scorpio
Hyundai Creta
Kia Seltos
Tata Nexon
Hyundai Venue
Which car is better for future petrol or diesel?
When it comes to efficiency, diesel engines provide more efficiency by using 15-20% less fuel compared to petrol engines. The low-end torque of diesel engines provide a much better highway driving experience. However, the price of this efficiency is also higher compared to the petrol variant of the same car.